Humans are meant to sleep at night. That's what our body clock tells us. Sleep at night is different from sleeping at other times of the day. Your circadian rhythms tell your body when it is sleeping time in order to allow your body to rest and recharge for what awaits you the following day. Many restorative processes happen once you drift off to dreamland, which is why you should get that recommended eight hours of sleep daily for your optimal health.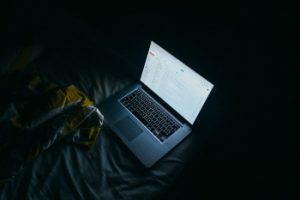 Smart gadgets are a huge part of our lives. Most people can't stop tinkering with their gadgets even if it is already bedtime. Unfortunately, using these gadgets prevents you from drifting off to sleep earlier or on time. The blue light they emit is also harmful to your health as your brain perceives it as sunlight making you more alive, alert and awake more than ever. Your brain should be able to cool down from working hard the entire day but it stays sharp and wide awake because of the gadget you are using. Today, it is rare to see somebody not yet hooked to smart gadgets especially if you are living in big and populated cities.
Fifty percent of teens report feeling addicted to their cellphones and a new study in the journal Child Development shows nighttime usage of a cellphone can increase anxiety and depression in teenagers and reduce self-esteem.

This is the first study that shows a direct link between screen time and mental health.

Researchers note that rates of anxiety and depression in young people have risen 70 percent over the past couple of decades.

Psychologist and CBS News contributor Lisa Damour told "CBS This Morning" that what's important about this study is that it shows a "pathway" between using cellphones at night and disrupted sleep. 

"We've suspected that there's a problem here, we've seen correlational studies, but this shows us that teens using their phone late at night leads to disrupted sleep which leads to increased depression, emotional fragility and sometimes acting out."
(Via: http://www.cbsnews.com/news/late-night-cell-phone-screen-time-teens-mental-health-sleep/)
Not only are adults at risk of losing sleep from tech use, but even teens and young kids too. They often already have access to these devices early in life, something most adults didn't have way back then. Constant use of smart gadgets can have a negative impact to sleep as well as influence certain developmental milestones a child is supposed to achieve that may lead to stunted growth and the development of sleep disorders.
"I find that winding my brain down at night, I find that incredibly difficult," admits Falcone, who was averaging about three hours sleep a night.

"It's this really interesting state of tiredness but an inability to go to sleep. In my brain I was running through my invoice data entry job that I had been doing that day, finishing it off in my brain. But I was too tired to get out of bed to go to the computer to actually do it."

SLEEP EPIDEMIC

According to the results of a new survey by an independent research company (commissioned by Nourished Life), 65 per cent of respondents suffer from sleep deprivation or disturbed sleep. 

Of the 1003 Australian adults surveyed, 30 per cent said they slept soundly "most of the time" while only 5 per cent said they slept well every night.

Like Falcone, many (35 per cent) said they experienced memory loss as a result of their exhaustion, one in three (33 per cent) reported that they were too tired to have sex and one in five said there were times they felt too unsafe to drive.
(Via: https://www.stuff.co.nz/life-style/well-good/teach-me/94372390/why-95-per-cent-of-us-cant-wind-down-our-brains-before-we-go-to-sleep)
Likening sleep deprivation to an epidemic actually quite fits the bill. People these days don't mind losing sleep if it means they have more time to browse their newsfeed or stream a new movie. In exchange, you become more sickly and perform poorly at work/school/home because your body wasn't able to rest properly the night prior. The solution is actually simple. Resist tech use and put your gadgets out of sight a few hours before bedtime. You won't die if you won't be able to read about the latest news on social media but your health will suffer if you constantly deprive yourself of precious sleep.
But if your problem is more physiological, getting professional help is a must because sleep remedies aren't always that effective. For instance, sleep apnea shouldn't be ignored and you should try both old and new treatment options to find out what works best for you. Of course, anything you try should always have your doctor's approval even if it is just the use of a simple anti-snoring mouthpiece device like https://snoringmouthpiecereview.org/good-morning-snore-solution or this one: https://snoringmouthpiecereview.org/sleeptight.