If you have read this site, you know that I have tried virtually every different mouthpiece, device, and anti-snoring remedy available in order to separate the wheat from the chaff when it comes to getting a good night's sleep. The Smart Nora system is the latest to be added to the list, and is actually a standalone system but I personally would classify it as a snoring pillow. The majority of anti-snoring mouthpieces and devices work by adjusting the head or jaw position manually to cut out your snoring. Of course, the Smart Nora is pretty unique. However, is it any better than more conventional anti-snoring methods such as the SnoreRX or Good Morning Snore Solution?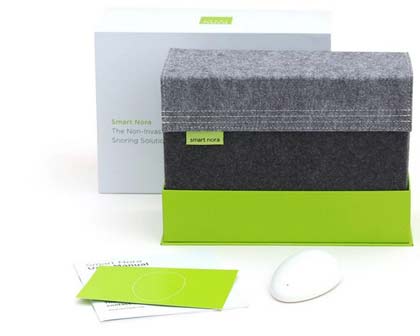 I picked up the Smart Nora Device from Amazon to find out for myself what it's like. On initial reading, this is one piece of superb technology that continues to garner admirable positive online reviews as there is, at last, a device that can solve your nightly snoring problem and is at its absolute best when the snoring is unbearable.

How The Smart Nora Works
The Smart Nora Device is a two-part device that comes with something they call a Pebble that you can put on your bedside table, along with a pillow insert you can put in your pillow cover. There is a built-in microphone on the Pebble that monitors you in your sleep and catches any snoring sound you may make. Then, it sends a signal via Bluetooth to the pillow insert once it detects a sound that is louder than the set volume on the device. The insert then inflates and consequently raises your head several inches higher, thereby opening your airways.
Theoretically, the Smart Nora creates smoother air passage, reduced throat vibrations, and a good night's sleep for you. You can adjust the Pebble's sensitivity depending on how severe your snoring is, which makes the Smart Nora Anti-Snoring Pillow System one of the first of its kind to digitally tailor fit a solution to snoring.
It's the first time I tried something like it, so I was really excited to give it a try.
Does Smart Nora Work?
I placed my order online at Amazon. The return policy is 30 days, much like almost anything there.
One of my first concerns was the likelihood that setting the Smart Nora up may be far more complicated than I was prepared for and I definitely wasn't mistaken! I connected the Nora base to the pillow insert and plugged the base into the wall before inserting the insert into my pillow cover. One thing you should know that I didn't see at first is that you should charge the Pebble for a few hours before first using it. To charge, you just actually have to plug the Pebble to the base via a USB cable. I was also somewhat confused about the lights on the main box and the Pebble. I did not know how to differentiate these lights since it wasn't stated in the instruction manual.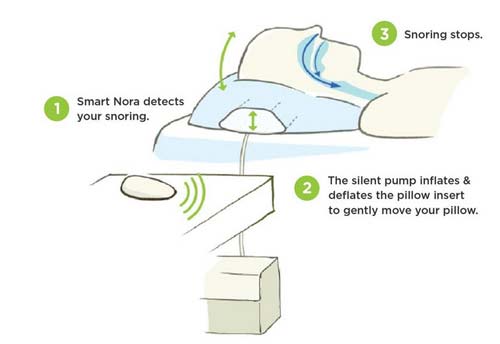 I unplugged the Pebble after a couple of hours, turned it on and made adjustments on its sensitivity settings (chose to begin on high) and there you go: time for the test trial of my Smart Nora Device. Pillow inflation testing was accomplished with a Bluetooth button, but I ended up having to push it a few more times before it eventually inflated.
I can say that the first time I used it was just an average experience even if the Pebble had been activated by external factors, first the sound of my furnace coming on, then by my wife waking up. The following night, I adjusted its sensitivity slightly lower and that worked far better.
Trial and error is the best approach to the settings, I figured. I don't really snore all the time anymore, and I discovered that I snored the loudest at specific sleep cycle stages. The Smart Nora Device was able to identify these periods where I snored the loudest, and inflates the insert. I woke up twice that night, but I deduced that it was likely dependent on what stage of the sleeping cycle I was in when it activated. Fortunately, it was late enough that I easily fell back asleep.
The true test here is whether the Smart Nora is really able quash my snoring. The resounding answer was YES (according to my SnoreLab app tests, and my wife, of course). It did help that the pillow elevated when I needed it the most. The device had no problem when it came to activation and it quickly raised the pillow insert once I snored too loudly and it surpassed set volume levels. However, I haven't tried yet placing the Pebble on top of my headboard. The Pebble has a self-adhesive sticker behind it and the accompanying instructions on the Smart Nora Device say to put the Pebble roughly four inches away. This enhances accuracy and enables the device to catch lighter to moderate snoring sounds.
Benefits
• Effective – The device was able to reduce my snoring right away. What's nice about it is that it only activates once it needs to help you sleep faster and better even if you are using an anti-snoring mouthpiece, which is usually the struggle when using devices that manipulate the head or jaw position.
• Innovative – This is a sleek and innovative device and what sets it even more apart from the rest is that it's pretty clever.
• Not invasive – The fact that it is inconspicuous and barely noticeable is what many people like about the Smart Nora Device. You can sleep soundly for hours and it does not mess with falling asleep either.

Drawbacks
• Confusing status lights – I did not figure out right away how to tell what the different status lights mean and it might take you a while to figure it out and set the right adjustments for your device. It isn't something you can really use if you just snore lightly, as a lot of external factors in the room can set it off before it even catches your snoring.
• Charging the Pebble – You need to charge the Pebble after 5 to 7 days, which can be a nuisance for those that aren't completely organized.
• Pillow Insert Positioning – You need to place the pillow insert correctly under your pillow or it won't be able to adjust your head once it inflates. You just have to be sure that it is right under your head when lying down to make sure everything works.
Buy Smart Nora And Coupon Codes
As a whole, the Smart Nora Device is an effective solution among snorers aside from being an interesting piece of technology. Buying the device is really easiest on Amazon (click here), and you do of course get the high quality Amazon return policy. As far as Smart Nora coupon codes go, I wasn't able to find any. The pricing of this device is a little steep at $299, so if you manage to find a good deal on it, snap it up!

The device being not invasive is probably it's biggest advantage. You can use it alongside an anti-snoring mouthpiece for better results.
Again, it being non-intrusive is its major selling factor to let you sleep soundly throughout the night. Purchase the Smart Nora from Amazon here.