Kids of today grow up in a world filled with technology. So, it is more common to see one holding a smartphone or tablet than seeing someone reading an actual book or playing out in the dirt. The youth have openly embraced technology because it has been there all around them growing up. Even adults nowadays also enjoy the comfort and convenience offered by these technologies.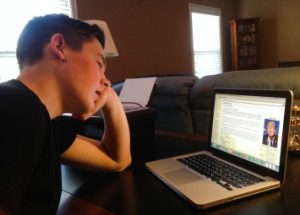 With the constant distraction of technology and the endless things to do during the day (includes hobbies and interests, not to mention tons of homework and essays), students consequently miss out on sleep. So, the question now is whether our life really becomes easier and better because of technology or is it an unnecessary burden we can all afford to live without.
Heavy school workloads, on top of extracurricular activities, are a key reason behind an epidemic in sleep deficit. Our 14-year-olds are worried sick, even if they are not telling you. It might be anxiety over an upcoming test or friendship angst that follows your daughter home from school. The lure of the blue-lit screen resting on the bedside table adds to the problem, with the short-wavelength light emitted suppressing the sleep hormone and delaying sleep onset. In lay terms, the teen's brain is being told it's time to wake up.

And then, when they wake to a piercing alarm the next morning, what is their first act? That question is put to a group of Brisbane 14-year-olds. The answer is so in tune it seems practised: "Check my phone."

Sarah goes to bed between 10.30 pm and 11.30 pm. She admits she is on Instagram, Tumblr, Snapchat, Facebook, Twitter, Skype and ooVoo. Sheepishly, she also owns up to the fact that she's only allowed social media between 4 pm and 9.30pm – so doesn't begin her homework until 9.30pm. Her case points to another issue: few 14-year-olds have curfews, and those who do largely ignore them, tucked in their room with the door closed, while their parents, tired themselves, nod off to sleep up the corridor.
(Via: http://www.smh.com.au/good-weekend/todays-teens-are-struggling-to-fit-enough-sleep-into-their-busy-lives-20170329-gv9ego.html)
The facts do not lie and show that younger children really do suffer from too much technology use. Back in the days, young kids were already off to bed at around 8 pm or 9 pm at night. Today, kids are still wide awake at midnight or even in the wee hours of the morning and busy tinkering with their gadgets.
Three times as many children under 14 are being admitted into hospital with sleeping disorders than ten years ago as technology keeps many awake at night.

Households where both parents work are also pushing bedtimes later, with a lack of sleep raising fears of poor school performance and later life health woes.

It puts children at greater risk of developing mental health issues, catching viruses and becoming obese, according to past research. Studies have also linked a lack of sleep to low levels of emotional control.
(Via: http://www.telegraph.co.uk/news/2017/03/04/surge-children-admitted-hospital-sleeping-disorders-many-kept/)
We can't deny that too much technology can really mess up with your day and night whether you are young or old. However, you can also try to use it to your advantage.
Technology can be a helpful tool in tracking our sleeping patterns and reminding us when to head to bed in order to get our full eight hours of rest. But 71 percent of Americans sleep with or near their phones, according to a 2015 report from Bank of America, and we've all heard the negative effects of too much screen time before bed.

Take advantage of trackers

Wearable devices, like Fitbit or Jawbone wristbands, aren't just for fitness. These trackers can monitor the quality of your sleep by measuring your sleep cycles, noting how many times you toss and turn, wake up and more, all without disturbing your sleep or requiring screen time before bed.

Use apps for relaxation

There are a multitude of smartphone apps that can track your sleep — but they require your phone to be next to your pillow, inevitably causing distractions like sending that one last email or waking up to the buzz of text messages. Instead, try a brief guided meditation through an app like Headspace before getting into bed. Or you can quietly play Pzizz Sleep, a sound app with scientifically proven techniques that combine neurolinguistic programming, binaural beats and sound effects.

Adjust your lighting

Bright lights can disrupt your biological clock, making it difficult to fall asleep. If you have a newer iPhone, take advantage of the night shift setting, which automatically adjusts the screen to appear more yellow at night. You can turn on the feature manually or schedule it around your bedtime.
(Via: http://www.ydr.com/story/life/wellness/blogs/no-sweat-york/2017/03/23/striking-balance-sleep-and-technology/99533178/)
The issue between sleep and technology is something we can't all ignore. Although most of us only see its bad side, there are other ways to make technology work for us without our health suffering in return. And most of all, exercise discipline and moderation in technology use.
Set a specific time in the day when you will indulge yourself in an hour or two of web surfing and social media updating. For young kids, an hour will do and a little more over the weekend. Strike up a balance where you can still do all the important things in life that involves school, work, and household chores and indulge in a little bit of technology as a reward for all your hard work. That way, you do not overdo things and you still get that precious sleep at night that your body desperately needs in order to recharge and prepare for the following day.