Sleep is a human necessity but it is becoming more of a luxury as the days go by. There are different distractions that prevent you from sleeping. You actually don't mind at times that you are losing sleep because you enjoy all these distractions. You like surfing the web. Playing games on your smartphone or video games. There are tons of shows to watch on TV or on the web. You can chat with friends on social media. Unfortunately, there are also conditions that can prevent you from getting enough sleep each night like sleep apnea.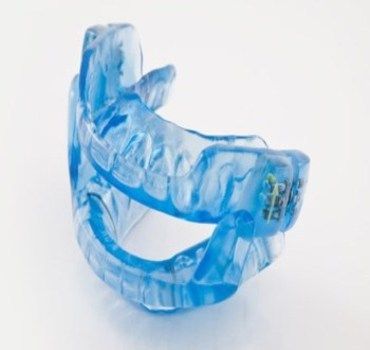 People often associate sleep apnea with snoring because most people with the condition snore. However, not all snorers have sleep apnea. Many people find snoring funny but it is actually a deadly condition. People can die from it because you essentially stop breathing for several seconds multiple times in your sleep. It is not uncommon to see people waking up gasping for air in the middle of the night and not remember a thing the following morning.
Until now, there is no known treatment for sleep apnea just yet but there are treatments that can minimize symptoms, reduce the risk, and improve a person's life. Surgery isn't always an option for everyone because of the risks involved. The gold standard is CPAP which stands for continuous positive airway pressure. It delivers air via a mask, which can make it quite a bit uncomfortable when wearing one in your sleep.
A continuous positive airway pressure machine and wearing a mouthpiece have been found to be the most successful treatments for obstructive sleep apnea in helping nighttime breathing, according to a report issued by AHRQ (Agency for Healthcare Research and Quality). The authors said the CPAP (continuous positive airway pressure) machine was backed by the most compelling evidence. The mouthpiece is called MAD (mandibular advancement device)
The comparative effectiveness review was done by researchers at the Tufts Medical center Evidence-based Practice Center for AHRQ's Effective Health Care Program.
The authors of the report stress that all treatments have potential side effects.
The authors explained that approximately 12 million Americans are thought to suffer from sleep apnea. Most likely, there are several more millions who are currently undiagnosed.
(Via: https://www.medicalnewstoday.com/articles/232503.php)
But since compliance rate is very low among CPAP users, it might be better to use a sleep apnea mouthpiece rather than not do anything at all about your condition. These oral appliances aren't as great as CPAP but these devices make breathing easier and stop you from snoring too, which can make a world of difference to your partner who has to put up with the loud sound and for you as well.
The market is now littered with different types and brands of sleep apnea mouthpieces that may make choosing a bit difficult especially if you are quite clueless about these things. You need to know what works for you first. There are mouthpieces you can customize and not. Some correct your jaw while others don't. Brands like ZQuiet (review is here) and VitalSleep are good choices for starters.
Dentists specializing in dental sleep medicine (or oral sleep medicine) supply and fit oral appliances to prevent snoring, usually in the form of a mandibular advancement splint (MAS). This device forces the lower jaw forward, increasing the air cavity at the back of the throat. They're very effective – as long as people can tolerate using them.

Experts say the newer appliances are more comfortable than the bulky mouthguards of old, and are good for people with apnoea who can't tolerate the CPAP machine (see below). The best devices are those customised to the individual – 'boil and bite' models are a lot cheaper, but not as effective.

You may need to go to the dentist a few times in the first few months for adjustments. You'll also need to get checked once a year for permanent movements of the jaw and teeth, which are not uncommon. Other potential negatives include dry mouth, irritation, dental discomfort and pain around the joint of the jaw.
(Via: https://www.choice.com.au/health-and-body/conditions/trouble-sleeping/articles/anti-snoring-products)
Sleep apnea mouthpieces, while a long way from what a traditional CPAP can offer, is a good enough choice for individuals with sleep apnea who haven't yet decided how to get themselves treated. They're also priced reasonably and most offer a free trial with 100% money-back guarantee. With that being said, you can literally use the first mouthpiece free of charge and if you aren't happy with it, you can just send it back and not pay anything at all. Well, at least you have to cover for shipping.
So, try one now. You don't need to suffer by yourself when help is readily available. Sleep apnea may be incurable but it is definitely manageable.