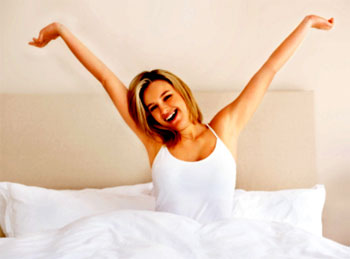 There is always room for improvement and sleeping is just one of those areas that we can always work on. Maybe we need to sleep more, or maybe we need to sleep less (looking at you, Mr. I-Don't-Get-Up-Before-Noon). Perhaps our sleep positions need to change or maybe we just need to be able to ensure we're getting quality sleep in the limited time we have.
Smartphones have revolutionized the communication world and now smart mattresses are coming into the fray. Forget counting sheep; you'll want to start counting robots:
Everybody sleeps and now technology wants to help us to do it better. New apps can control and monitor every aspect and activity in the bed, including some that are better left in the dark.

Technology ranges from a space-age prototype that gives the ultimate assist in making sure your bed is always neatly made to a 'Smartress,' a mattress that knows if someone else is sleeping in your bed. It might even tip you off via an app on your phone, CBS2's Kristine Johnson reported.

It's a so-called 'cheating alert,' courtesy of sensors embedded in the mattress to detect motion when there's not supposed to be any. But for 3-year-old Bella Marlow, and her dad Ian, smart technology has given their family peace of mind.

'I'm amazed at some of the statistics that we're able to get from what she has and notifications come through on our phone to tell us if she's gotten out,' Marlow said.

Marlow can track Bella's sleep patterns on an iPad or phone, and knows when she's had a restless night, or gets out of bed when she not supposed to.

Via: http://newyork.cbslocal.com/2016/06/22/sleep-technology/
While some of the alerts may prove to make you more paranoid there's no denying that a lot of benefit comes from them as well. If you live in a large home and want to know if your kid is getting out of bed, then a smartress is going to help you with that.
If you've had a hard day at work and your muscles are aching, being able to get the mattress warmed up before you even walk in the door is going to be the most amazing part of your day. Then you can just stumble out of your clothes and allow yourself to be wrapped in the bliss of sleep.
Being able to adjust the comfort level of your mattress while you sleep can also help lessen the impact snoring may have on your body. Sleep position can be a major culprit and all the assistance you can get in addressing it is going to make your life easier.
Of course these mattresses are going to put a dent in your pocket but when it comes down to it, wouldn't you like a nice comfortable bed by any means possible? Who knows, in the future our mattresses may even start singing us lullabies.