When it comes to a jaw advancing snoring mouthpiece, it's hard to beat ZQuiet. In fact, readers of the Snoring Mouthpiece Review consistently tell us that it is their

favorite snoring mouthpiece. The reasons are quite simple:
ZQuiet offers a free trial if you're thinking about adopting one: Unlike many other mouthpieces out there, ZQuiet does essentially offer a free 30 day trial. Now, it does cost $9.95, but it's fair to say that this is essentially a shipping cost. Very few mouthpieces will offer this kind of low entry price, which is why skeptical first timers seem to like it so much.
ZQuiet's Low Price: When you look through the variety of snoring mouthpieces on the market, ZQuiet is easily on of the cheapest available. Again, for first time users that aren't sure that a mouthpiece will work for them, this is perfection. There are certainly cheaper mouth guards out there, of course, but many of them are cheap China-manufactured garbage, which unfortunately can lead to really bad things like TMJ or jaw pain.
ZQuiet At A Discount: OK, so finding a coupon out there is pretty unlikely for most people. The history ZQuiet has with coupons is actually quite sparse, but if there happens to be an extremely rare seasonal discount, you're best to jump on it. Unfortunately, these small discounts typically come around times like Black Friday and that's about it, so if you happen to luck into a ZQuiet coupon, take that offer immediately. It's likely it will not last!
ZQuiet Works: With its "Living Hinge" technology, this is a uniquely comfortable mouthpiece that has been ordered by well over 500,000 customers in the United States alone. There are few mouth guards with that kind of order flow, and it isn't just because this company does tend to do a good degree of marketing. It's also because it works. It's cheaper than most jaw advancing mouthpieces, is very comfortable, and, I'll say it again, it works.
Probably about the only downside with ZQuiet for most people is that you have to order it directly. You simply cannot buy ZQuiet at Amazon, and get warranty and the kind of customer service you're looking for. And while that may change in the future, the likelihood is very low.
Interesting ZQuiet Advocates
One of the more interesting recent champions of the ZQuiet snoring device is a group of folks that actually consist of sporting champions! I am talking about, of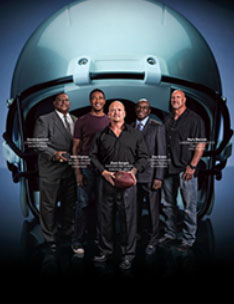 course, The Pro Player Health Alliance, or PPHA, a group of former professional athletes that are "focused on educating others about sleep apnea and sleep in an effort to reduce the number of deaths and adverse health conditions that result from untreated sleep disordered breathing". So it's an important goal, and one that these pro players understand considering how important good health has been to their careers. This is also not shocking because the ZQuiet is actually very similar in shape to sporting mouthpieces, which are of course used in most sports.
According to their recent release:
OSA sufferers stop breathing multiple times when they are asleep, resulting in lower night time oxygen levels and poor quality sleep. The loss of oxygen during the night combined with the lack of good sleep can be a dangerous combination. Stroke, high blood pressure, diabetes and heart disease have been linked to OSA.

The message is personal to many of the greats that make up the PPHA team, including Derek Kennard, who played with three teams – the Arizona Cardinals, the New Orleans Saints and the Dallas Cowboys – during his more than 11 years in the NFL.

"The loss of my brother to sleep apnea became a wake-up call for me. I was always tired and looked like it as well and knew I might be at risk. I had a home sleep test and learned that I stopped breathing many times during the night – sometimes for as long as 1 minute and 30 seconds. Treating my sleep apnea has changed my life – it is helping to keep me safe, healthier and living a better quality of life."
Via: http://www.prweb.com/releases/2016/01/prweb13169152.htm
The PPHA seems to have taken up sleep disordered breathing as a serious cause, and their walk certainly fits their walk:
To tackle these serious health issues and encourage others to make healthy sleep choices, the PPHA is committed to increasing awareness about sleep disordered breathing and offer guidance and recommended solutions that can lead to effective treatment.

Talking with a physician about potential sleep apnea or treating snoring is critical. OSA sufferers, especially middle-aged adults and men, have a 46% increased risk of death, from any cause, compared to those without the sleep condition, says the National Institute of Health. As many as 85% of people with OSA remain undiagnosed.

While snoring is typically a sign of OSA, not everyone that snores has OSA. Snoring affects about 45% of Americans on any given night, and according to Henry Ford Hospital "snoring is a bigger risk factor for stroke and heart attack than smoking, being overweight, or high cholesterol."

PPHA members have experienced the best diagnostic methods, and have tested and utilized various solutions for sleep apnea and snoring. Now they are sharing this education and experience.
It's fantastic forward thinking stuff, and something you don't see that often from professional athletes. See the full post here…
So if you're looking for a snoring mouthpiece, but are not 100% sure of what you should choose, take a look at the ZQuiet. This mouthpiece has been proven to work for over a half a million Americans, and that number grows every single year.