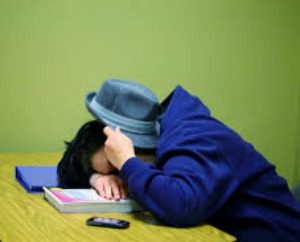 It's the time of year again. Students are swarming schools all over the country from kindergarten all the way to university and college. It's back to school and that means a more regimented schedule should be implemented for everything. This includes parents as well as students. For those who are finding themselves in post-secondary for the first time might have a harder time trying to control themselves. Safeguards, like parents, might not be there and the newfound sense of independence and freedom could very well be their undoing.
If you want to be successful at anything in life, you need to put your best effort into it. This holds true for education. Lack of sleep can be the simplest cause of your undoing when it comes to performing in the workplace, and at school:
College students who deprive themselves of sleep are more at risk of losing academic success, according to health professional Dr. Keith Willmore.

Willmore, medical director of the BYU Student Health Clinic, said there is definitely a connection between lack of sleep and poor academic performance. He said cognitive functions are worsened due to sleep deprivation.

"Most students tend to stay up much later and sleep in, resulting in both less quantity and quality sleep," Willmore said in an email.

Daniel Kay, an assistant professor of psychology, explained there is a danger for students when it comes to this "sleep debt."

"'Sleep debt' as it's called, accumulates over time," Kay said. "So if an individual obtains 15 minutes less sleep than is needed on a nightly basis, after a week or two that starts to add up, and can have an impact of daytime functioning that is as great as going a whole night without sleep."

An article written by Dr. Ronald D. Chervin and Dr. Shelley D. Hershner, published in the Journal of Nature and Science of Sleep, states "the consequences of sleep deprivation and daytime sleepiness are especially problematic to college students and can result in lower grade point averages, increased risk of academic failure, compromised learning, impaired mood and increased risk of motor vehicle accidents."

Students who slept for more hours had higher grade point averages than shorter sleepers, according to the article.

The article also said "students with sleep disorders probably do not achieve optimal academic performance, and up to 27 percent of students may be at risk for at least one sleep disorder."

Via: http://universe.byu.edu/2016/09/06/health-officials-say-lack-of-sleep-can-negatively-affect-students-grades/
University and college are not cheap, by any stretch of the imagination. Even if you're lucky enough to be the recipient of a scholarship or have family who are able to pay the way, that's still a hefty chunk of change. You don't want all the hard effort you put into your courses to go down the drain because you're having issues with your sleep schedule. Lack of sleep can be brutal for your health.
Like any other health concern you might have, you should visit a doctor if sleeping, or lack of sleep, is happening more often than not. It could be that you're suffering from insomnia or maybe you snore in your sleep and need to wear a mouthpiece. It doesn't have to be a struggle if you get help for it sooner rather than later. You just have to take charge of your life and if that means missing out on a party or two so you can get some proper sleep and not bomb that final exam in two days, then maybe that's what you need to do.